One of the most neglected body parts, so far maintenance is concerned, is undoubtedly our lips. Home Remedies for Chapped Lips to Keep Them Smooth, Soft and Lissome can be easily found at home. Do you know about them?
Ladies put up lots of lipstick on their lips but hardly attempts to take any proper care of it. Cracked or Chapped Lips when used with lipstick further deteriorate their health and compounds to various problems. So what should one do to take care of them?
In the following paragraphs, we will be exclusively dealing with Home Remedies for Chapped Lips to maintain good and healthy lips. This article equally applies to both gender, men, and women, in maintaining and upkeep of Chapped Lips.
A Simple Home Remedies for Chapped Lips
If you have chapped lips, use a thin layer of turmeric paste over it. It is a good natural remedy tried and tested for many centuries in rural India. You can also use coconut oil which acts miraculously on chapped lips.
Some other precautions can be additionally taken which are mentioned below.
Stop Licking Lips:
It looks awful if someone asks you to stop licking lips. Licking lips involve kissing others as well as licking one's own lips.
If you have sore or Chapped Lips, in all probabilities,  it is likely that it has been already infected with viruses, fungi, and bacteria. Doing either of the above things are going to ultimately harm it further.
So wait until you are fully cured by Home Remedies for Chapped Lips and take proper precautions and full care of it. If required visiting a medical professional is not at all a bad idea.
Use of Healthy Dietary Foods:
Eating habits of individuals have lots to do with the health of the Chapped Lips. The alternative system of medicines like Ayurveda and Homeopathy plays a vital role in treating the condition without any side effects.
A steady intake of proper vitamins and minerals ensures good skin. Vitamin B, C, and E are highly important for good skin. Fibrous foods, use of lots of leafy vegetable and Salad does the trick for the glow of the whole skin at large and most sensitive the lips in particular.
So give extra attention to your dietary habits as by and large it acts as a contributor to Home Remedies for Chapped Lips.
Recommended for You:
How to Stop Aging
How to Lose Stubborn Belly Fat
Use of Lip Balm:
Nowadays plenty of good lip balms are available which can be used in place of lipstick at least for the time being. So use it if you are not maintaining good health of your lips.
During the winter season, when skin tends to go dry use of lip balms, petroleum jelly or paraffin does a good job.
They seal the moisture on the lips and slows down the process of evaporation, thereby stopping the Chapped Lips to go dry. Lip Conditioners and Nivea Lip Butter should be used to keep the beautiful lips healthy during all seasons.
Lip Exercises: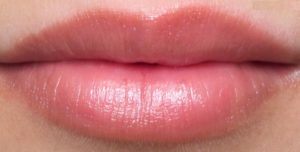 There are few exercises for Lips which plays a vital role in the upkeep of good lip health.
Facial exercises should undoubtedly include Lip exercises which tend to correct the posture of the lips.
Rotating the lips by protruding it outwards, making whistling gestures and massaging every day for few minutes does wonder for the lips and contribute to therapy of Home Remedies for Chapped Lips.
Smile a lot:
If you don't feel good at heart, you can not smile. To develop the habit of caring, blissfulness and go-getter attitude. Start loving yourself, the people around you and Smile a lot. It helps you to possess beautiful lips and get rid of Chapped Lips.