The festival of Durga Puja and Bengali Saree is synonymous to each other.
Durga Puja as it is more popularly known in West Bengal and Eastern states is the celebration of the victory of good over the evil. It is religiously marked as a victory of lion clad goddess Durga over the buffalo demon Mahisasura.
The festivity of MAA DURGA is continuing, therefore it has prompted me to write this blog.
Let Mother Bless Every one of Us….
Durga puja is celebrated during the bright lunar phase of 'Shukla Paksha' as per the Hindu calendar in the month of October or 'Ashvin'. The six-day celebration begins with 'Mahalaya', 'Shashthi', 'Maha Saptami', 'Maha Ashtami', 'Maha Navami' and end with the last day 'Vijayadashami'.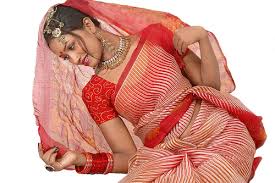 During the celebration of Durga puja, Bengali Saree for women and Designer Dhotis for Men have been gaining prominence slowly and steadily over the decades and now it has reached a point where it has started symbolizing the occasion.
Now a woman elegance and finery is epitomized with Bengali Saree during the Dussehra festival. The attire and religious look of a Bengali woman are gaining prominence even in the non-bengali region and women in these areas by at large have started celebrating the occasion with their designer clad Bengali Saree.
  Bengali Saree during Durga Puja

During Durga puja, the Brand Specific Cotton Bengali Saree like Dhakai Jadaani, Taant, Tashor etc are found to be at the peak of their popular demand and sell.
The women folks try to find a gorgeous look with these Ethnic Bengali Saree Collections during the festival. This trend is growing not only in Bengal but across the major metros like Delhi and Mumbai also.

So guys and gals, this is the time for the festival to festive our moods. Let us swing with it.
On the auspicious day of 'Mahalaya', let the celebration begin with a combination of Red and White bringing in Grace to the Occasion.
Let 'Shashthi', grace us the Simple Cotton Bengali Tangail Saree epitomizing the great  Customs and traditions of Bengal.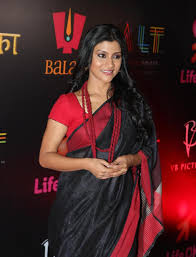 At  'Maha Saptami', Bengali Taant surely present an ethnic look. It cast a look of piousness with blessings of MAA DURGA.  

Let 'Maha Ashtami', be the day of Bengali Cotton Silk Saree more particularly with yellow border, with an inspirational theme to the occasion.




On the occasion of 'Maha Navami' One can choose Dhakkai Jamdani Saree. To grace the occasion, you can wear Classical RED attire symbolizing Maa Durga.
And Finally, Let Georgette Bengali Saree be

the 

benignant dress of 'Vijayadashami' for bidding adieu to the Goddess Durga and seeking her blessing of ETERNITY to return again the next year to sanctify us.
Ooo Ladies, Clad in a Mesmerizing Bengali Saree Wearing Styles !! Thou Truly Epitomize LOVE !!!
Durga Pujo Dhak Dance
"Yaa Devi Sarva Bhuteshu,
Shradhha Roopen Sansthita
Namast Tastai, Namast Tastai,
Namast Tastai, Namo Namah !!!"